2020.12.08
information
Re:ORIZURU
We launches its perpetual calendar, recycled from orizuru - Sales will begin on December 15, 2020, both on the official EC website and in stores –
The Hiroshima-based peace brand "EARTH Hiroshima," launched by Soar Service Inc. (Headquarter: Hiroshima City, Hiroshima Prefecture / President: Chizuru Gorai) (Head office: Hiroshima City, Hiroshima Prefecture / President: Chizuru Gorai) will begin selling its new product, the "EARTH Hiroshima" peace brand from Hiroshima, on its official EC site and in stores from December 15, 2020. (Click here to visit the product purchase page.)
Each year, orizuru paper cranes are sent from around the world to the Peace Memorial Park in Hiroshima City, wishing for peace. The number of orizuru is about 10 million (weighing around 10 tons). We hope to spread the message of peace enclosed in these origami cranes around the world, inspiring more people to have kind hearts for peace. With this wish, EARTH Hiroshima gives new life as a goods to "Oirzuru recycled paper (*)", embedded with colorful fragments of Origami.
The new "perpetual calendar made from orizuru recycled paper" is the fifth product in the "orizuru recycled paper" series, following the notebooks (gold wing and silver wing), paper aroma diffusers (peace/love), and card cases.
Let us mark a span of 10,000,000 years with the wishes of 10 million origami cranes for peace in the future.
============================
<*Oirzuru recycled paper>
After being stored for a certain period of time, orizuru paper cranes sent to Hiroshima Peace Memorial Park are brought to Sheltered workshops etc. There, the cranes are unfolded one by one, sorted by color, and dissolved in water to be reborn.
The orizuru crane recycled paper, with colorful fragments scattered evenly throughout, is filled with thoughts of peace and a wish to connect to the next generation.
============================
<Product Details>
Product: Perpetual calendar, recycled from Orizuru
Size: φ90mm
Contents: 35 cards
– 31 different illustrations on each dated card (31 cards)
– Cards which can be used freely (4 cards)
Material: Recycled paper from orizuru
Sales price: 3,100 yen (without tax)
◆Eco-friendly product
"Perpetual calendar, recycled from orizuru" uses recycled orizuru paper cranes for everything from the outer box (made in the same way as pasteboard boxes used for Japanese sweets) to the date card inside. The orizuru recycled paper items are eco-friendly and have gained popularity among consumers in recent years.
◆2-way calendar: desktop calendar or monthly calendar
This calendar is made of orizuru recycled paper and is a daily calendar of circular cards.
You can keep the cards in the box as a desktop calendar or display the cards on the wall as a monthly calendar.
◆31 different pixelated illustrations
Each day is illustrated with 31 different fun, pixelated designs such as doves (a symbol of peace), hearts, cherry blossoms, and airplanes under the theme of Peace & Love.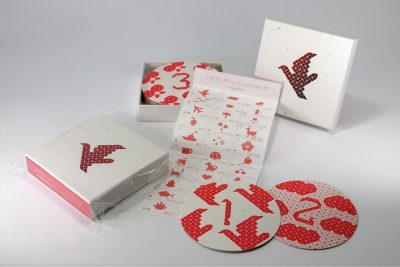 ◆Extra free cards for your own ideas
There are two types of free cards that can be used freely: a grid type that can be filled in to create original pixel illustrations, and a plain type that can be used to freely express a message or anything else you like. These cards can be used for birthdays, anniversaries, and other special occasions. We hope that by bringing this orizuru recycled paper into your daily life, you will come to appreciate people's wishes for peace and the appeal of the paper itself.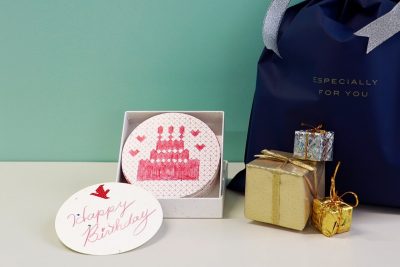 <Project member for "Perpetual Calendar, recycled from orizuru">

Designer:Michitomo Sekiura / d&b sekiura design
Became a freelance graphic designer after working at an advertisement agency in Hiroshima City.
Established d&b, sekiura design in 2014.
Specializes in package design and branding.
Won various awards, such as the Golden Award of Japan Package Design Awards 2013.