Workshop a Big Hit! Report on the Hiroshima Peace Memorial Day Event Held on 8/5 & 8/6☆
On 8/5 (Sat) and 8/6 (Sun), we held a face-to-face sales & workshop event at "Hito to Ki" located on the 1st floor of the Orizuru Tower!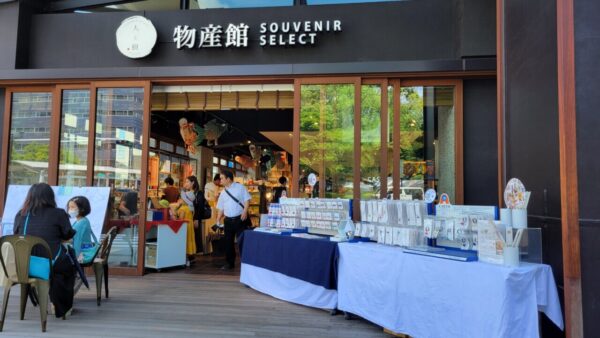 Considering that 8/6 is Hiroshima Peace Memorial Day, for this event, we prepared our full lineup of the "Origami Crane Charm".
From all over Japan, and from around the world, origami cranes are sent to Hiroshima Peace Memorial Park. These "origami cranes," infused with wishes for peace, have also become a symbol of Hiroshima's peace.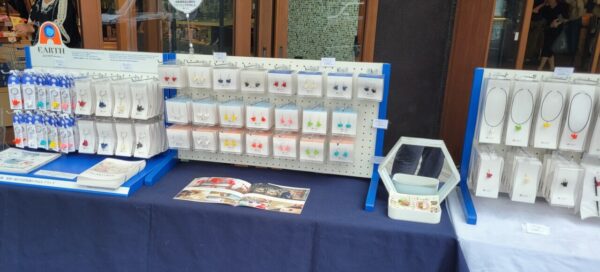 To represent the intricate form of this origami crane in three dimensions, using the molding and painting techniques cultivated in the automobile parts manufacturing of Baba Plastics, we crafted the beautiful "Origami Crane Charm". It's made using recycled plastic material from car parts.
Origami Crane Charm product page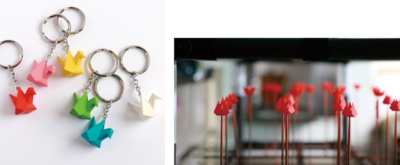 The colorful "Origami Crane Charm" comes in a total of 10 colors. When they're all lined up, they look vibrant and cute.
On the day of the event, Mr. Baba (right) from Baba Plastics, who manufactures the "Origami Crane Charms", also came to help. Thank you so much♪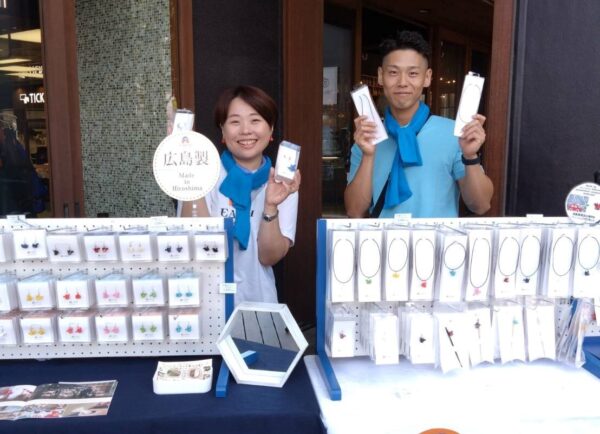 We also displayed our new summer item "Re:ORIZURU FANO", which was released in May.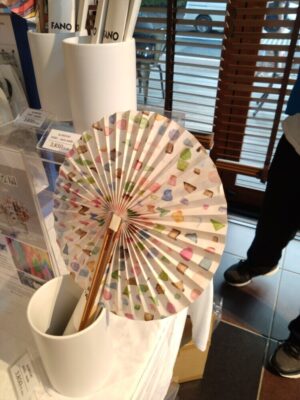 "Re:ORIZURU FANO" is a fan made from recycled origami paper. It's designed by the art department of Hiroshima City University, based on original artwork drawn by individuals with disabilities. The adorable patterns that appear when you spread the fan make many people smile.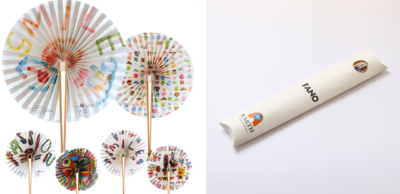 During the origami crane folding workshop, many participants joined from both within Japan and abroad.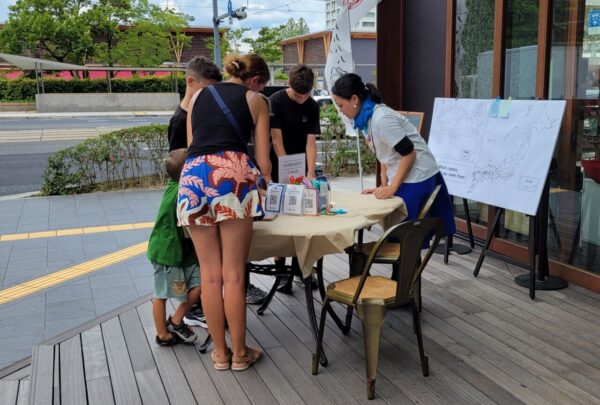 In the next picture, there are visitors from the USA. They learned how to fold origami cranes from our staff and took on the challenge.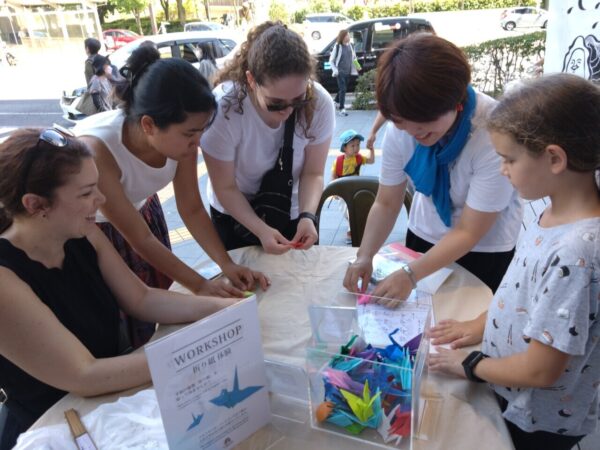 For their first attempt, they managed to fold a very beautiful crane.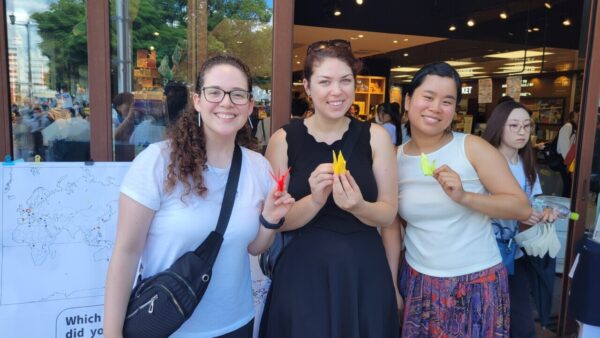 All the origami cranes folded by the participants will later be donated to Hiroshima Peace Memorial Park. We hope that through this workshop, feelings of peace will spread throughout Japan and the world.
Additionally, we set up a board with "Which country did you come from?" written on it. Participants marked their hometowns on a world map with stickers.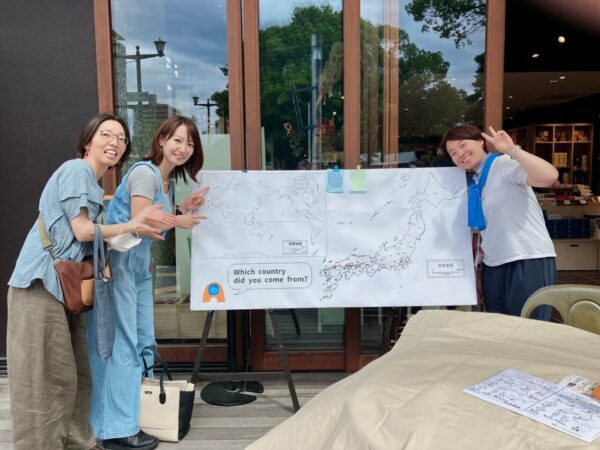 Everyone left many "footprints" on it.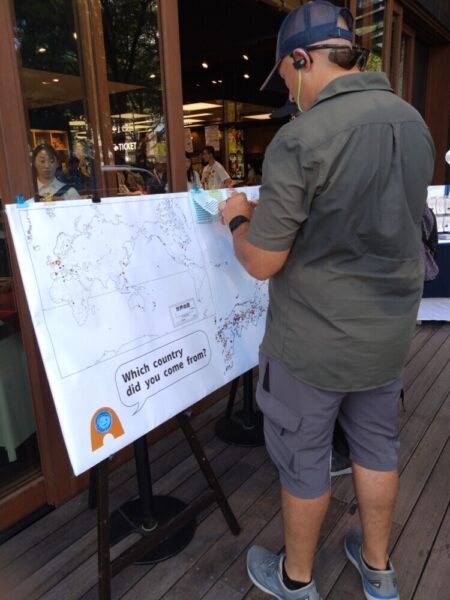 Many visitors from all over Japan, including those attending ceremonies, students visiting Hiroshima for peace studies or volunteering, came to Hiroshima for Peace Memorial Day.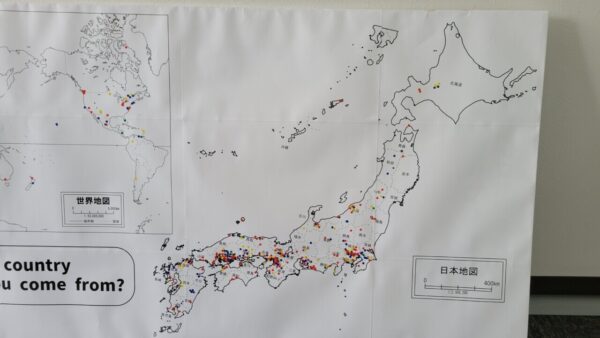 From overseas, we had participants from 35 countries and regions, including the USA, Europe, and various Asian countries.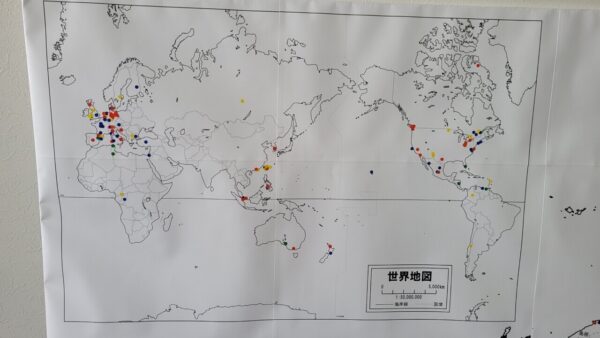 This "Which country did you come from?" initiative provided a great opportunity for conversations with the attendees.
Thank you to everyone who visited and participated in the workshop!